We are a couple-owned bistro with great passion for food and wine in the French kitchen. The menu keeps evolving with the season. The wines are from small producers focusing on the terroir it's from. Use us as your daily dinner bistro/wine bar or visit us for your anniversary. Any reason is a good Bistro Odette reason. Bienvenue!
---
Opening hours

Wednesday – Sunday from 16:30
(Sunday's- kitchen close at 20)
We are open on Valentine's- Monday the 14th of February 
---
For bookings please use our online booking.
All tables are reserved for 2,5 hour. We are also taking reservations for up to 1 month in advance. For parties over 6 guests please email us.
For bookings the same day after opening hours, please call the restaurant.
The waiting list is confirmed by a call from the restaurant if we receive a cancellation.
If you feel spontaneous, we also reserve some seats for drop-in guests.
---
Our location,
Olivedalsgatan 14 B  (nearby tram/bus stops Olivedalsgatan or Linnéplatsen)
---
As we are experience difficult times and the future feels very uncertain. We would like to share that we will stay strong for our beloved guests and amazing staff.
We are open as usual and following our gowernment recommendations. We are practicing social distancing, offering hand sanitizer. So please keep distance and if you are feeling well, you are mostly welcomed to visit our bistro.
♥♥♥
---
Bienvenue au Bistro Odette!
Dogs are mostly welcomed. Please inform us when booking.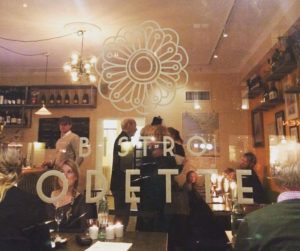 We will answer your email as soon as we can. If you need information during opening hours, please call
☎ +46 (0) 31-12 53 30
We are a cash free restaurant

Bistro Odette rekommenderas av
https://starwinelist.com/sv/vinguide/goteborgs-godaste-glas?utm_source=badge&utm_content=text