We are a couple-owned bistro with great passion for food and wine in the French kitchen. The menu keeps envolving with the season. The wines are from small producers focusing on the terroir it's from. Use us as your daily dinner bistro/wine bar or visit us for your anniversary. Any reason is a good Bistro Odette reason. Bienvenue!
---
For bookings please use our online booking.
If you feel spontaneous, we also reserve some seats for drop-in guests.
For bookings the same day after opening hours, please call the restaurant.
Our location,
Olivedalsgatan 14 B  (nearby tram/bus stops Olivedalsgatan or Linnéplatsen)
---
opening hours:
Wednesday- Sunday from 4.30 pm
We are closed during Christmas and New year. Starting from the 22th of December.
We will open again the 8th of January 2020.
---
Bienvenue á Bistro Odette!
Dogs are mostly welcomed. Please inform us when booking.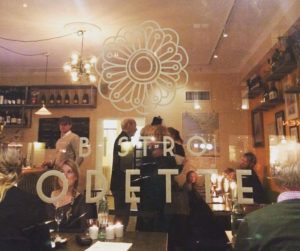 ☎ +46 (0) 31-12 53 30
We are a cash free restaurant